_________________________________________________________________________________
Member Societies News

NCEES installs first female president in its 93-year history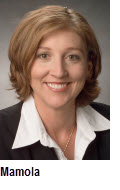 Patty Mamola, P.E., founding principal of the Bowling Mamola Group of Reno, NV, has become the first female president of the National Council of Examiners for Engineering and Surveying since the Council's founding in 1920. Mamola took office Aug. 24, at the conclusion of NCEES' annual meeting in San Antonio, Texas.

In her inauguration address, the 2013-14 NCEES president outlined three key focus areas for the year ahead: promoting the professions of engineering and surveying, encouraging diversity, and improving professional mobility for U.S. professional engineers and surveyors. "When you limit the idea of who can be an engineer or surveyor or what they do, you limit what can be achieved. We must challenge those perceptions to accelerate advances in engineering and surveying," she said. Mamola has been a member of the Nevada State Board of Engineers and Land Surveyors since 2006. Learn more about the significance of NCEES' first female president.
__________________________________________________________________________________
Scotland's Titan Crane dedicated by ASCE, ASME as a landmark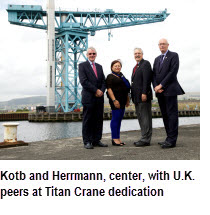 A 150-foot-high shipyard cantilever crane built in 1907 in Clydebank, Glasgow, Scotland, Titan Crane is officially an International Historic Civil and Mechanical Engineering Landmark, dedicated in August ceremonies led by American Society of Mechanical Engineers President Madiha El Mehelmy Kotb and American Society of Civil Engineers Past President Andrew Herrmann, P.E. Representatives of Britain's Institution of Civil Engineers and Institution of Mechanical Engineers joined in unveiling a plaque shared by all four engineering societies. With a 240-foot-long cantilever capable of lifting 160 tons, upgraded to 200 tons in 1938, Titan Crane moved heavy equipment into place during constructions of huge ocean liners and battleships, and survived heavy attack in World War II. Learn more about what made Titan Crane worthy.

In another landmark dedication in August, Kotb was on hand as ASME dedicated the Waikiki Beach Wave Pool at the Big Surf Waterpark in Tempe, Ariz., as a Historic Mechanical Engineering Landmark. The wave pool is the first inland surfing facility in North America; Big Surf is the oldest waterpark in the United States.
.
__________________________________________________________________________________
ASME president urges movement toward sustainable energy
"To engineers, moving toward greater sustainability means broadening design and risk-tolerance perspectives to include economic, environmental and socio-political considerations," wrote ASME's Madiha El Mehelmy Kotb in a recent Letter from the President on ASME.org. "This requires changes throughout engineering practices, and it greatly influences our effectiveness at communicating and enhancing technical literacy with the broader public." Find out how ASME has been encouraging such innovation in sustainability in Kotb's letter.

__________________________________________________________________________________
Conference to explore advances in medical 'nanoengineering'
Researchers from around the world who support the use of nanoscale engineering to improve health care will convene next February in San Francisco at the Third Global Congress on NanoEngineering for Medicine and Biology, sponsored by ASME. Conference organizers are accepting abstracts from authors who would like to present technical papers and posters at the event. NEMB 2014 will follow up on last February's highly successful event, which drew more than 400 attendees. Get details on NEMB 2014.
__________________________________________________________________________________
Bolivian footbridge honored with ASCE sustainability award
A new cable-supported pedestrian bridge built with local labor and materials in a remote area of the Andes in South America has won ASCE's 2013 Innovation in Sustainable Civil Engineering Award. The Chari Chari, Bolivia, Cable Supported Footbridge has vastly improved safety and enhanced the economy in a region where children and adults once had to walk miles out of their way each day to find a safe point to cross a dangerous, frequently flooded river. The span was built with the aid of Bridges to Prosperity, a group of engineers and other partners, many of whom are ASCE members. Learn more about how the bridge will serve as a template for future spans.
__________________________________________________________________________________
ASCE and Asian CE societies sign Jakarta Protocol on sustainability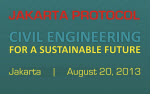 ASCE joined with 10 other Asian-region civil engineering organizations in August to sign the Jakarta Protocol, a unified commitment to make civil engineering the leading force in the adoption of infrastructure sustainability. Signed at the sixth Civil Engineering Conference in the Asian Region (CECAR 6) in Jakarta, Indonesia, the protocol commits the 11 societies to take the lead in delivering sustainable infrastructure and acknowledges that civil engineers have an obligation "to protect cultural and natural diversity central to the planning, design, construction, operation, maintenance, and decommissioning of infrastructure networks that underpin civil society and economic activity and protect human health and welfare." ASCE 2013 President Greg DiLoreto, P.E., was at the conference to sign the document on behalf of the Society. Get details on the protocol.
__________________________________________________________________________________
Share your sustainability experiences at ASCE conference
Have you designed and delivered infrastructure projects that incorporated principles of sustainability? Share what you've learned with peers eager to know at next year's ASCE International Conference on Sustainable Infrastructure. Coming to Long Beach, CA, in November 2014, ICSI will focus on sustainability in the built environment, presenting relevant engineering research, demonstrations and applications that contribute to competitiveness and well-being. Presentations and panel discussions will cover sustainable infrastructure planning, financing, design, construction and operation: how practitioners are improving sustainable performance to meet the critical challenges of a changing operating environment. Submit abstracts for papers, posters, or presentations along these lines by this Nov. 8. Get more details and forms.
__________________________________________________________________________________
NSPE proposes greater licensure flexibility with early exams, veterans aid

The National Society of Professional Engineers is calling for the industry to expand opportunities for engineering licensure under two new position statements recently adopted by the NSPE board. The first states that individuals seeking engineering licensure should have the option of taking the PE exam early if they have met the educational requirements and have passed the FE exam. The second advocates special licensure flexibility for veterans returning from overseas, provided qualifications are met.
__________________________________________________________________________________
Engineering-related bills in Congress endorsed by NSPE
NSPE has encouraged Congress to pass two engineering-related bills moving through the current session. The Educating Tomorrow's Engineers Act would provide grants to integrate engineering curricula into classrooms across the nation and expand the uses of existing federal education programs to include engineering education. NSPE has worked with the bill's sponsors to add new cosponsors in the House and Senate. The Design-Build Efficiency and Jobs Act of 2013, introduced in July by Rep. Sam Graves (R-MO), chairman of the House Small Business Committee, would revise the federal procurement process to enable small and large businesses alike to compete for federal construction contracts.
__________________________________________________________________________________
SAME bringing help to students, small businesses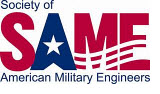 The Society of American Military Engineers is gearing up to aid students and small businesses this fall with special events convening for each. Coming to San Antonio, TX, on Oct. 4 and 5, the SAME Student Chapter Workshop will focus on the National Academy of Engineering's Grand Challenges, with keynote speaker Christina White, Ph.D., of the University of Texas, Austin.

SAME's annual Small Business Conference will be held in Kansas City, MO, Nov. 19 to 21. With great education sessions for small businesses, the conference will feature representatives from all Army Corps of Engineers districts, divisions and centers, as well as the Naval Facilities Engineering Command and the Air Force Civil Engineer Center. At the event, SAME will join forces with the U.S. Chamber of Commerce for a Hiring Our Heroes job fair for veterans and military spouses.

Coming next year, the Society will help members sharpen their focus on continuing education by allowing them to track their professional development hours via SAME's association management system. SAME currently tracks professional licensing and other credentials, but not continuing education. The ClearVantage tool also will allow SAME to begin providing recognition to members who achieve certain levels of continuing education. Visit SAME.org for details on each of these activities.


__________________________________________________________________________________
SWE conferences to explore greater roles for women in engineering

More than 6,000 female engineers will be gathering in late October for the Society of Women Engineers' annual conference, WE13, in Baltimore, MD. The three-day event will feature more than 200 professional development sessions, a career fair, and networking events. Details and registration information are at the official conference site, we13.swe.org.

SWE is also convening its third Gender Summit in November in Washington, under the theme Diversity Fueling Excellence in Research and Innovation. The event will explore ways of achieving greater diversity in the STEM workforce and leadership, and greater inclusion of gender considerations in research content and processes. Find out more about attending at gender-summit.com.
__________________________________________________________________________________
TMS plans first 'summit' stressing workforce diversity
Eager to help the industry do more to attract and hire women and minorities, The Minerals, Metals, and Materials Society will be staging its first workshop focusing on gender and racial diversity in 2014. Over two and a half days in July, The First TMS Summit on Creating and Sustaining Diversity in the Minerals, Metals, and Materials Professions will feature invited speakers, panel discussions, facilitated discussions, and workshop-style sessions. The event will provide resources that attendees can bring back to their companies, organizations, and institutions. It will take place at the National Academy of Sciences in Washington, DC.
__________________________________________________________________________________
'Tech pack' from ISA offers cybersecurity guidance
To help manufacturers and plant and facility operators enhance their cybersecurity defenses and better confront the growing danger of cyberwarfare, the International Society of Automation recently introduced its ISA Cybersecurity Tech Pack. The Tech Pack assembles the latest technical papers, PowerPoint presentations, technical books, and InTech articles developed by some of the world's leading experts on industrial cybersecurity. As a global leader in cybersecurity standards development, training, and educational resources, ISA provides technical expertise and know-how to help safeguard industrial automation and control systems. Read what ISA had to say recently about cybersecurity standards.
__________________________________________________________________________________

Upcoming IEEE-USA co-sponsored conferences
Click on each for details
▶ IEEE Global Humanitarian Technology Conference, Oct. 20-23, San Jose, CA
The third cross-disciplinary annual conference will again bring together communities and individuals – engineering, science, technology, industry, academia, government agencies, NGOs, charities, funders – interested in applying technology to develop effective solutions for the challenges facing the world's underserved.
▶ Carbon Management Technology Conference, Oct. 21-23, Alexandria, VA
Professionals from all engineering disciplines will examine the reduction of greenhouse gas emissions and adaptation to changing climate and how to meet these challenges. Novel approaches and new technologies instrumental to technical, economic and social advancements in carbon management will be shared.
▶ International Conference on Wireless for Space and Extreme Environments, Nov. 7-9, Baltimore, MD
Investigators from NASA, the Canadian Space Agency, the European Space Agency, and other space agencies, along with industry and academic researchers, will join forces in an effort to understand and solve the emerging problems facing wireless sensing and communication in space and related extreme environments.
▶ IEEE Homeland Security Conference, Nov. 12-14, Waltham, MA
This conference brings together innovators from leading academic, industry, business, Homeland Security "centers of excellence," and government programs to provide a forum to discuss ideas, concepts, and experimental results.
__________________________________________________________________________________
Now from Emerging Leaders Alliance, ELA On Demand

Engineers can build leadership skills at any time with the online, on demand training now available from the Emerging Leaders Alliance. These online recorded sessions have been derived from past ELA conferences. Sessions are available for individual purchase or as complete conference sets. Special pricing is available for organizations that want to make the ELA On Demand library available to their members. Learn more about ELA On Demand.
__________________________________________________________________________________
'National Science Week' goal of USA Science & Engineering Festival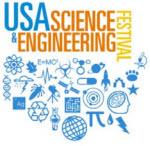 Next year, the last week of April could serve as a powerful reminder to the nation of the importance of STEM education under a resolution in the U.S. House that would establish National Science Week. The resolution also endorses the goals and ideals of the biennial USA Science & Engineering Festival in Washington, DC, the nation's largest STEM education event, to be held next year on April 26 and 27. Festival organizers are appealing for signatures to an online petition in support of the resolution, which calls on state and local governments to recognize April 20-26, 2014, as National Science Week.

The third USA Science & Engineering Festival will include 750 of the world's leading professional scientific and engineering societies, universities, government agencies, high tech corporations and STEM outreach and community organizations. The 2012 festival drew over 250,000 attendees; planners estimate the 2014 festival to nearly double that.
__________________________________________________________________________________
Help sought for study on why engineers stay in the profession
Two years ago, the groundbreaking study Stemming the Tide: Why Women Leave Engineering helped the profession understand and address the challenges of retaining women. The researchers behind that work are launching an extension, asking "Why do men and women stay in engineering?" Nadya Fouad, Ph.D., and Romila Singh, Ph.D., of the University of Wisconsin-Milwaukee are asking AAES members for help by distributing a link to an online survey to their members once available in late October. Participating member societies will be provided advance access to survey results and an opportunity to discuss them with the researchers. Help contribute to a meaningful body of work and ensure that a diversity of engineering disciplines and professionals are represented in the study.